I look for the neglected self in my artworks, and the artworks connected into a complete self between me
How do you reflect when you saw me? How do I respond when I saw you?
《Something about individual》
I am my own photographer and model in all my artworks.
Since 2008 I created my Self-Portraits at my rental room alone.
Include setting everything without partner.
Creation is like my image diary and extend my emotions layer by layer.
They are so interrelated with me.
Most of the time, I always been alone since I was a kid but I don't feel lonely.
I like drawing, reading or walking in the nature and then taking some pictures.
They might be my photo materials.
《How do I think about my body art?》
Imbalance is actually the process of getting gifts.
The most important thought in my artwork is "Exclusion of gender signification, I believe my body is the neutral material that could mean everything! Completely pure! No cumbersome objects.
Each detail the significance and necessity of the existence of itself. Depend on the present situation. Everything is constantly changing. But in the end everything will be returned to its own natural way."
If you love my artworks, you can support me through PayPal I'll be grateful!!
或者轉帳到玉山銀行(808) 土城分行 / 帳號:0266-9791-33890
Big Hug & Love with you.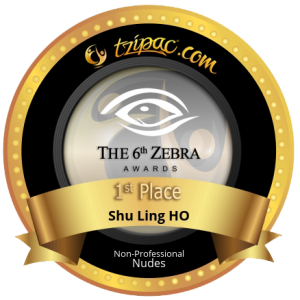 2020 Solo Exhibition《Reflection》at The oasis tavern
2018 The 6th Zebra Awards – Non-Professional – Nudes
2014 The 3nd Taiwan International Salon of Photography
2012 The 2nd Taiwan International Salon of Photography
2011 The 29th Taoyuan Fine Arts Exhibition of 2011
2010 ART Taipei 2010 – Lee Gallery Young Art project One
2010 Pingtung Fine Arts Exhibition of 2010
2009 The 14th Da Dun Fine Arts Exhibition of 2009
2009 Dogpig Art Cafe Pure Plan(2)
2009 Kaohsiung Awards of 2009–Honorable mention of Photography
2008 Kaohsiung Art Exhibition of 2008