《關於個人的事情》
充滿暴力和不安的成長環境讓自己從小就有一種孤獨感。
做為人類經歷生命起伏後最終希望自己能修練成良善的存在。
所以我在藝術創作裡省思也感受層層體悟後的變化。
可以說他們是我的日記也是情緒的出口。
在多數作品裡,我是自己的攝影師同時也是被拍攝的人。
真正開始影像創作是2008年。在自己租來的房間裡獨自創作。
而在一層一層地延伸自己的情感裡,終於有了安全感。
他們與我如此緊密地聯繫在一起。
《我如何看待我的人體藝術?》
以質能守恆定律來看,失去與獲得本質上是相通的。
在作品中自己的身體是中性素材,可以代表任何我想說的故事或物件感受。
取決於現階段的狀態,而一切都在不斷變化也最終會恢復到其自然的方式。
而每個細節都詳細說明了獨立存在的意義和必要性。
2022 高美館 虎來跳舞/ 舞者
2021 i-Dance即興流水席 個人舞蹈創作 《繞》
2020 新竹邸家 / 《紅色的夢之我愛你》個展+行為藝術創作
2020 優人神鼓《域》老泉山現地創作計畫 /《蛻》行為藝術創作
2020 台北Home Barr /《Material》行為藝術創作
2020 台北綠洲酒館 /《Reflection》個展+行為藝術創作
2012 大東文化藝術中心《萌‧Young》創作聯展
2010 台北國際藝術博覽會 / 黎畫廊壹計畫聯展
2009 豆皮藝文咖啡館 – 井底計劃(二) / 實驗創作個展
2021 高雄駁二特區 漾藝術聯展 《光的提問》
2018 The 6th Zebra Awards《禁箇》藝術個人組 / 金牌獎
2014 第三屆台灣國際攝影沙龍 – 愛 – 藝術類 / 入選
2012 第二屆台灣國際攝影沙龍 – 禁箇 – 藝術類 / 入選
2011 桃源美展 – 逃離‧失衡 – 攝影類 / 佳作
2010 屏東美展 – 初生 – 攝影類 / 優選
2009 大墩美展 – 原來? – 攝影類 / 入選
2009 高雄美展 – 雨‧舞 – 攝影類 / 入選
2008 高雄獎 – 無向 – 攝影類 / 優選

Check  Suelynee on
6th Zebra Awards Annual Book
《Something about individual》
The environment in which I grew up make me a sense lonely since I was a child, but I just know I'm not alone.
As a human being, to experience the ups and downs of life and then to cultivate into a kind person.
My artworks comes from my own life experience and understanding.
It can be said that they are my diary and emotional export.
In most works, I am my own photographer and the model.
Since 2008 I created my Self-Portraits at my rental room alone.
Include setting everything without partner.
And in extending my emotions layer by layer, I finally have a sense of security.
They are so closely connected with me.
《How do I think about my body art?》
From the perspective of the law of conservation of mass and energy, loss and gain are essentially the same.
I use my body as a neutral material in my work, it can represent any story or object feeling I want to tell.
It depends on the current state, and everything is constantly changing and will eventually return to its natural way. "
And every detail explains in detail the meaning and necessity of independent existence.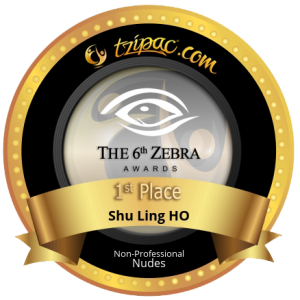 2022 Kaohsiung Museum of Fine Arts  Performance / Dancer
2021 Young Art group exhibition 《 Question for the light》
2021 i-Dance Solo Dance 《Round》
2020 《Red Dream》 Solo Exhibition and Performance,  De-Jia, Hsinchu, Taiwan
2020《Molt》 Performance,  U-THEATRE, New Taipei City, Taiwan
2020 《Material》 Solo Performance, Home Barr, Taipei, Taiwan
2020 《Reflection》 Solo Exhibition, The Oasis Tavern, Taipei, Taiwan
2018  《Forbidden》 The 6th Zebra Awards – Non-Professional – Nudes / First Place Award
2014  《Love」 The 3rd Taiwan International Salon of Photography – Photography  / Merit Award
2012 《Womb Series》 Da-dong Arts Center 《Sprout ‧ Young》 Group Exhibition
2012 《Forbidden》 The 2nd Taiwan International Salon of Photography – Photography / Judges' Award
2011  《Lost Balance》 The 29th Taoyuan Fine Arts Exhibition of 2011 – Photography  / Merit Award
2010   ART Taipei 2010 – Lee Gallery Young Art project One
2010 《Newborn》 Pingtung Fine Arts Exhibition of 2010 – Photography / Merit Award
2009 《Womb Series》 The 14th Da Dun Fine Arts Exhibition of 2009 – Photography / Honorable Mention
2009  Dog-pig Art Caffa Pure Plan(2)
2009 《Dance in Rainy》 Kaohsiung Awards of 2009 – Photography / Judges' Award
2008 《Non-Directional》 Kaohsiung Art Exhibition of 2008 – Photography / Merit Award